---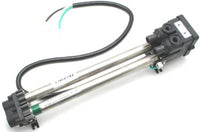 Sale
This 2010 No-Fault PDR Titanium Heater is the newest factory upgrade replacement heater from the makers of Hot Springs spas. Its double-pass sleek design replaces all previously discontinued heater styles. The double-pass feature efficiently heats the water in two stages and oh what a perfect job it does! Now factory approved and warrantied for all 115 volt 1.5kW and 230 volt - 6kW installations for all 1995-now Hot Spring and Tiger River spa models. Your existing 3/4" vinyl tubing will attach to this heater with no worries. The thermistors have different thread sizes to insure they can't accidentally be reversed when re-installing them into this new PDR heater. The also have different tips on the ends of the wire to insure they can't accidentally be plugged into the wrong port on the IQ Control Box.
This replacement heater doesn't have a plug on the end of the power cord like on the 1995-1996 spas. In most applications, the heater is connected directly inside the spas control box. If your existing heater plugs in to the bottom of your control box, you may need the appropriate adapter.
Note: If your existing heater has an additional wire plugged into the IQ2020 main board, you will need to either order the PDR heater with the built-in pressure switch (72795) or add a Flow Status Jumper (72768) to P34 on the main board. Using the heater with a built-in pressure switch is recommended.