---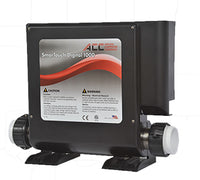 Sale
This is the complete control system for any single-pump spas that run at 240v or 120v. This model comes with a discrete heavy-duty contactor relay for maximum reliability and serviceability.
Included in this spa pack:
Circuit Board / Controller
Digital Topside Control
4 Kilowatt Heater
Temperature Sensor
Overheating Safety Sensor
Pressure Sensor
Sealed Electronics Enclosure
AMP style connectors for your external components
This pack can be installed with either 20, 30, or 50 Amp service, and also includes support for 12v lighting and ozone systems.
Dimensions: 15.375" W X 14.5" H X 3" D