---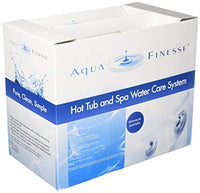 Sale
Now with free extras!
We are now offering additional chemicals for free with every Aquafinesse kit sold. You can choose Aquafinesse's excellent filter cleaning tablets, their fantastic spa clean tablets, or a number of other chemicals that will compliment your purchase.
· Removes slime layer and greasy feeling
· Reduces the need for chlorine or other harsh chemicals when used as directed
· Maintains steady pH levels when used as directed
· Extends the life of your equipment up to 3 times longer than with traditional water products when used as directed.
· Tested and approved by KEMA Institute Advanced technology for the life of your hot tub.
Kit includes: two 64 oz bottles of AquaFinesse, one measuring cup, and one container of Sanitizing 1" tablets or powder. Make sure that you specify which form you would like the sanitizer to come in.