---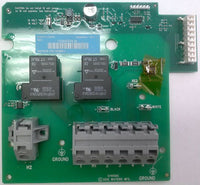 Sale
Replacement for part 74618.
This IQ2020 Heater Relay Circuit Board is the newest 2017 revision.
It's upgraded design provides a more efficient method of connecting the heater's power cord to this board. The black wire from the heater's power cord now connects into the H1 position on the large gray terminal block. The heater's white wire (neutral) connects onto its own separate gray terminal block. This will reduce stress on the relays and increase their lifespan due to better transfer of voltage. The ground wire connection remains the same. This upgraded circuit board replaces the first and second generation boards in the IQ 2020 Control Box
Symptoms this part has failed: 
No power going to the heater even though the red HTR ON L.E.D. light is lit inside the IQ2020 control box.
The heater board is charred on the front and/or the backside.